Home / Coronary Calcium CT Scan
This is a radiological screening test for risk of a heart attack generally done in combination with a consultation. It is a rapid CT scan with no injection to determine if there is a buildup of calcium or calcified plaque in the arteries supplying blood to the heart muscle.
These quick and painless cardiac scans may detect an increased risk of a heart attack even before any symptoms of heart disease occur. In some cases, heart scans can look for blockages in the heart. Coronary CT scans are most helpful in determining whether symptoms of chest pain are caused by a coronary blockage. These highly specialized cardio scans are performed at one of our partner facilities and require a referral from an NYC cardiologist.
The Importance of Discussing Your Heart Health with Your Provider
We recommend that you talk to your primary healthcare provider about your family history of heart disease, especially if you previously suffered a heart attack.
You are your own best healthcare advocate since you know your family history, lifestyle, and body better than anyone else. Avoid assuming that your doctor will take the initiative and ask them if a heart scan is a good option for you, especially if you have a number of risk factors to consider.
Why Might Your Doctor Recommend a Cardiac CT Scan?
Your cardiologist may recommend a coronary calcium CT scan if you have risk factors for coronary artery disease but don't as yet have any clinical symptoms. Important reasons for ordering this Cardiac Calcium Screening test include identifying the kind of treatment you need and lowering your risk for heart disease.
Doctor's Note:
This cardiac test is most commonly recommended for men aged 45 and older, as well as women aged 55 and above or who are postmenopausal.
The Major Risk Factors for Coronary Heart Disease, Other Than Age, Include:
Abnormally high blood cholesterol levels
A family history of heart disease
Diabetes
High blood pressure
Elevated blood lipids including cholesterol and triglyceride
Cigarette smoking
Being overweight or medically obese
Being physically inactive
Great service, same day stress test appointment, accepted my insurance, very knowledgeable and great staff. Highly recommend. ~ ZocDoc
Cardiac CT technology enables Dr. Steven Reisman, our top New York City cardiology doctor, to provide the most accurate non-invasive assessment of your coronary arteries. The goal of determining if you are a candidate for a Calcium Heart Scan Test is to detect the severity of coronary artery disease (CAD) at an early stage when there are no symptoms. It is a screening study that the NYC cardiologist may recommend for patients who have risk factors for CAD but no clinical symptoms.
Heart Attack and Sudden Cardiac Death
Aortic Valve Surgery
Women and Heart Disease
Aspirin in the Prevention of Heart Disease
What Does the Calcium Score Mean?

Calcium Scoring checks the coronary arteries for calcification, which is then measured and scored. The CT cardio scan images are used to accurately quantify the levels of calcified plaque in the coronary artery walls. The calcium score is a superlative screening method for determining an individual's risk of underlying coronary artery disease. The higher the calcium score, the greater the risk of a future heart attack. Individuals with a high score can be offered lifestyle modifications such as diet and exercise, as well as further evaluation and possible treatment such as statin therapy, to reduce their risk.
What Are the Risks of a Coronary CT Scan?
There are some risks associated with cardiac CT scans, which include:
Radiation exposure: Because the test involves radiation, there is a slight risk of cancer later in life, especially in individuals under the age of 40. The radiation dose from a single CT scan is comparable to the amount you would receive from three years of exposure to natural background radiation. Hence, patients should not get more CT scans than are recommended by clinical guidelines.
Dye reaction: The iodine-based dye used in the procedure may cause an allergic or adverse reaction such as itching, skin rash, hives, or difficulty breathing.
Additionally, if you are pregnant or suspect that you are pregnant, you should inform your doctor. If the test is not urgent, it may be postponed until after your pregnancy, or extra precautions may be taken to protect your baby during the procedure. If contrast material must be injected, breastfeeding should be stopped for 24 to 48 hours. It is recommended to pump your breast milk ahead of time and use it for several days after the test or to feed your baby formula instead.
How Should You Prepare for the Сoronary Сalcium Test?
A Calcium Score CT test does not require any special preparation. In general, you shouldn't discontinue any current medications (except for medications for erectile dysfunction). However, it is recommended to avoid caffeinated beverages and foods such as coffee, chocolate, and soda for 4 hours before the test, as well as to abstain from smoking.
On the day of the exam, you should wear loose-fitting, comfortable clothing. To avoid compromising the image quality, the specialist may ask you to remove any metal objects such as jewelry, eyeglasses, and hairpins. If possible, removing hearing aids and dental work may also be necessary. If your clothes have metallic elements, such as zippers or fasteners, you may be given a gown to wear during the procedure.
How Is the Сardiac Сalcium Test Performed?
If you are having a contrast procedure, an intravenous (IV) line will be placed in your hand or arm for an injection of iodine-containing contrast material. The technologist will appropriately position you on a moveable exam table, usually on your back. Straps and pillows may be used to help you stay still and in the correct position. The specialist will place electrodes to your chest to allow an electrocardiograph (ECG) machine to record the activity of your heart and take images between heartbeats.
The table will then slide into the scanning machine's large, circular opening and move slowly through it as the images are captured. During the procedure, you must remain completely still. You may be requested to hold your breath at various points during the image capture process.
The technologist will be in another room, near the scanner controls, and will keep an eye on you through the window at all times. An intercom will permit two-way communication between you and the specialist. You will be removed from the scanner once the test is completed. The entire procedure, including the CT scanning, is usually completed in less than 10 minutes.
If you have any questions for the best in class NYC cardiologist Dr. Steven Reisman or would like to schedule a consultation or appointment in the cardiology clinic, please feel free to contact Dr. Steven Reisman of the New York Cardiac Diagnostic Center and indicate which Manhattan office (Upper East Side, Cardiology Midtown NYC, or Wall Street / Financial District) you would like to see the cardiologist for a cardiac consultation.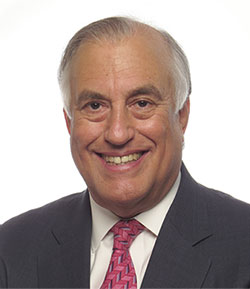 Dr. Steven Reisman is an internationally recognized cardiologist and heart specialist. He is a member of the American College of Cardiology, American Heart Association, and a founding member of the American Society of Nuclear Cardiology.
Dr. Reisman has presented original research findings for the early detection of "high risk" heart disease and severe coronary artery disease at the annual meetings of both the American College of Cardiology and the American Heart Association. Dr. Reisman was part of a group of doctors with the Food and Drug Administration who evaluated the dipyridamole thallium testing technique before the FDA approved it.
Dr. Steven Reisman's academic appointments include Assistant Professor of Medicine at the University of California and Assistant Professor at SUNY. Hospital appointments include the Director of Nuclear Cardiology at the Long Island College Hospital.