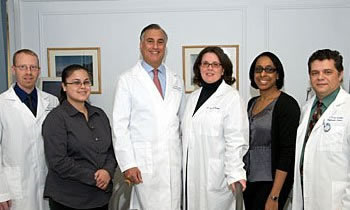 The New York Cardiac Diagnostic Center has three convenient NYC locations: Upper East Side, Midtown West, and Wall Street. Our cardiologist offices in NYC are conveniently located near NYC Subway lines, for easy access.
We accept most major insurance and routinely accept referrals from health care professionals.
Our top NYC cardiologists pride ourselves with providing you highly personalized and comprehensive cardiac care. Our philosophy of direct cardiologist to patient care at every visit has made us one of the most trusted and respected and best rated cardiac diagnostic practices in Manhattan.
Dr. Reisman takes the time to do cardiology right.  An excellent bedside manner, thorough, attentive to your concerns, and very helpful in coming up with a cardiac treatment plan to address anything and everything.  Friendly staff and the wait is never long – one of teh first doctor's I have been to in NYC that actually runs on schedule!  They also do a fantastic job at billing insurance – as half the battle with good cardiology testing is having the right tests for you covered by insurance.  I would highly recommend Dr. Reisman and so would all my friends. ~ ZocDoc
If you have any questions for the best in class NYC cardiologist or would like to schedule a consultation or appointment please feel free to contact Dr. Steven Reisman of the New York Cardiac Diagnostic Center and indicate which NYC office (Upper East Side, Midtown West, or Wall Street) you would like to see the cardiologist for a cardiac consultation.
Upper East Side Cardiologist's Office
115 East 86th Street
New York, NY 10028
(212) 860-0796
Midtown Manhattan Cardiologist's Office
200 West 57th Street
Suite 200
New York, NY 10019
(212) 860-1650
Wall Street / Financial District Cardiologist's Office
42 Broadway
Suite 1530
New York, NY 10004
(212) 860-5404