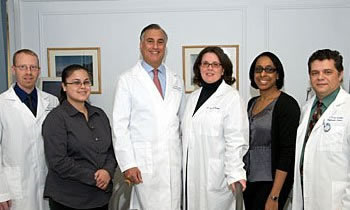 The New York Cardiac Diagnostic Center has three convenient Manhattan locations: Upper East Side, Midtown West, and Wall Street. Our cardiologist offices in New York are conveniently located near Subway lines, for easy access.
We accept most major insurance plans and routinely accept referrals from health care professionals.
Our cardiologists in Manhattan pride themselves on always providing you highly personalized and comprehensive cardiac care. Our philosophy of direct doctor to patient care at every visit has made us one of the most trusted and respected cardiac diagnostic practices in Manhattan.
Dr. Reisman takes the time to do cardiology right.  An excellent bedside manner, thorough, attentive to your concerns, and very helpful in coming up with a cardiac treatment plan to address anything and everything.  Friendly staff and the wait is never long – one of the first doctor's I have been to in NYC that actually runs on schedule!  They also do a fantastic job at billing insurance – as half the battle with good cardiology testing is having the right tests for you covered by insurance.  I would highly recommend Dr. Reisman and so would all my friends. ~ ZocDoc
How to Find The Best Heart Doctor in Manhattan, NYC
When you are feeling uncertain about your heart health or have noticed some troubling symptoms, you want to find a cardiologist who can be trusted to take care of you. Ideally, you want to have the top heart specialist in Manhattan that you can build a good relationship with and with whom you feel comfortable discussing personal matters. Your heart specialist should be open to questions as excellent communication is very important. If you are looking for the best heart doctor close by then it's worth asking family and friends for their recommendations and check online reviews. Also, take a good look at their qualifications and experience in cardiology.
Amazing doctor, great bedside manners, great attitude, very resourceful. Doctor has all machines needed for cardiac tests so he won't need to send you elsewhere to check on your stress test, Ekg and more. Accepts insurance. I went to the Upper East Side cardiac office. ~ ZocDoc
When Do You Need a Cardiac Doctor?
Heart disease continues to be the leading cause of death in the US and worldwide. This emphasizes the importance of regular heart check-ups. In fact, 1 in every 4 deaths in the US is due to various cardiovascular conditions. If any of the conditions listed below apply to you, it means you should see a cardiologist as soon as possible.
When your family doctor advises you to see a heart doctor.
If a family member had a heart condition. Any heart diseases in the family history increase your chance of having heart problems.
When you have a higher risk of developing heart disease. Risk factors for heart disease include high cholesterol and hyperlipidemia, being a diabetic, high blood pressure, smoking tobacco, obesity, and family history of heart disease.
If you recently noticed your heartbeat is faster than before.
When you had your first heart attack, regardless of how minor.
Symptoms such as chest discomfort, "indigestion", shortness of breath, palpitation, fainting, and increased fatigue.
It could make all the difference between a cardiologist picking up on a small and seemingly insignificant symptom at a stage when treatment is easier and less invasive. If you feel you need assistance or you have heart problems, consult the best rated Manhattan cardiology specialist Dr. Reisman today. Don't leave it too long, make the change and feel the difference.
One thing to consider is whether you should go and see an experienced professional such as Dr. Reisman who specializes in diagnosing heart problems. This could be worth the trouble even if you haven't been diagnosed with any heart issues because it will help manage your risk.
How Do You Choose the Best Cardiac Specialist Near You?
The heart is a crucial and sensitive organ in our body. That is why even a small anomaly can lead to many serious complications such as problems with breathing, being bedridden, or untimely death. That's why your diagnosis and treatment should only be trusted to the best cardiologist that you can find, such as Dr. Reisman. Below are some additional tips to consider when looking to find the top heart specialist:
When researching a heart specialist close by Manhattan be sure to check their credentials. Check that they are board-certified and have a state license. Also, some nearby heart doctors have more specialized certifications such as nuclear cardiology. Next, check to see if they have any academic appointments or clinical and research fellowships. This will give you a good idea as to how committed they are to their profession.
Great service, same day stress test appointment, accepted my insurance, very knowledgeable and great staff. Highly recommend. ~ Vitals
Our NYC cardiac doctors are continually researching and refining their knowledge. When you search for the "best cardiologist near me" look to see if they have published studies about cardiology. You want to choose someone who is an innovator and who is active in advancing the field of cardiology.
It might seem like a lot of trouble to find the best cardiologist in New York, but when you do find the right heart doctor, they could be treating you for years to come, and with luck, you can build an excellent, long term relationship with them and their office.
What to Expect From the Top Cardiologist In NYC?
Dr. Reisman of the Manhattan Cardiology Center can offer the most advanced electrocardiogram, echocardiogram, vascular, stress, and cholesterol tests so you know exactly what is happening in your body. You may wish to make an appointment if you have a family history of cardiovascular diseases, such as a sibling or parent who was diagnosed with this problem at an early age.
The service here was great, the doctors are absolutely fantastic all and all I would definitely recommend Dr Reisman as the best Manhattan Cardiologist ~ Google
You can benefit from having more advanced and specialized cardiac care to prevent any possible heart problems. Even if you decide to remain with your regular physician, there are still things you can do to help manage any risks with our best-rated heart doctor.
The Most Advanced Heart Diagnostic Equipment
We have invested in the most cutting-edge, advanced equipment for all of our heart screening services. This enables us to detect possible cardiovascular disease early enough to better manage or even prevent these problems. Our team of best cardiology doctors in Manhattan strongly believes that early detection is the best form of prevention. At our cardiology diagnostic center in Manhattan, you can find the latest technologies available in order to provide you with the most accurate cardiac diagnosis.
I would highly recommend the New York Cardiac Diagnostic Center in NYC. The staff was very professional and courteous. I called the day before and got an appointment the next day with the cardiologist. All procedures were carefully explained and I was made to feel very comfortable during the entire process. ~ RateMDs
Personalized Approach to Every Patient
When choosing any new healthcare provider, one of the most critical aspects of the relationship is communication. It is crucial that you feel comfortable talking to your nearby cardiologist and can ask them anything you want about your medical health. Managing your heart condition may require a long and difficult process in your life. That is why it's helpful to deal with heart doctors who understand and respect your situation.
Our leading cardiology specialist Dr. Reisman believes that a personalized approach without compromise is the only way to provide the best cardiac care possible. Your heart is an important organ that requires close attention to detail to get the best results. Our team provides personalized care that will meet your needs for prompt evaluation and accurate diagnosis.
After experiencing some chest pain, my wife found Dr. Reisman online after reviewing the top cardiologists in NYC. I was able to get an appointment right away for cardic testing and a stress echo and Dr. Reisman and his staff, especially Andre, they were very friendly and professional. Dr. Reisman did a great job of explaining everything and comprehensive tests were performed, which thankfully, were negative for heart problems. In light of my experience with Dr. Reisman and his professional staff, I offer this unsolicited review and highly recommend him. ~ Google
If you have any questions for the best Manhattan cardiologist or would like to schedule a consultation or appointment please feel free to contact close by cardiologist Dr. Steven Reisman of the New York Cardiac Diagnostic Center. Indicate which nearby cardiology office (Upper East Side, Midtown West, or Wall Street) you would like to see for a cardiac consultation.
Upper East Side Cardiologist's Office
115 East 86th Street
New York, NY 10028
(212) 860-0796
Midtown Manhattan Cardiologist's Office
200 West 57th Street
Suite 200
New York, NY 10019
(212) 860-1650
Wall Street / Financial District Cardiologist's Office
65 Broadway
Suite 1530
New York, NY 10004
(212) 860-5404